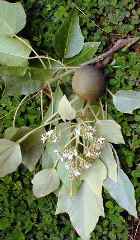 Latin Binomial:
Aleurites moluccana
Plant Part:
Nut
Extraction:
Expeller Pressed
Growing Practice:
Ethical
Country of Origin:
Netherlands
Refractive Index: 1.470 to 1.480 @ 20° C
Specific Gravity: 0.920 to 0.930 @ 20° C
Appearance: clear with a yellow tinge
BioChemicals: Oleic acid -10 - 35%; Linoleic acid - 35 - 50%; Alpha-Linolenic acid 25 - 40%
Saturated fatty acid (typically 9%): C16:0 Palmitic (6.0%), C18:0 stearic (2.5%)
Monounsaturated fatty acids (typically 21%): C16:1 palmitoeic (0.1%), C18:1 oleic (25.4%), C20:1 eiconsenoic (0.6%)
Polyunsaturated fatty acid (typically 70%): C18:2 linoleic (39.8%), C18:3 α-linolenic (25.6%)
CAS No: 8015-80-3


Pure
Kukui Nut Oil
is expeller pressed from the nut of the Candlenut tree (
Aleurites moluccana
) of the Euphorbiaceae Family, which grows throughout the tropics. The tree grows to a height of 50-82 feet, with wide spreading branches. It has pale green leaves 4-8 inches long. The round nut is 1.5-2.5" in diameter. The seed has a high oil content.
The Candlenut is the state tree of Hawaii, where the nuts are known as kukui.
Relief for Dry Skin, Eczema & Psoriasis
Outstanding emollient, absorbed quickly.
Leaves no greasy after feel.

No known toxicity. Regarded as non-irritant even to the eyes.
The information provided on these pages is not a substitute for necessary medical care, nor intended as medical advice. Always keep carriers and bases tightly closed and in a cool, dark place, out of reach of children. If redness or irritation occurs when applied to the skin, stop using immediately and contact your health provider if necessary.