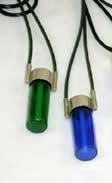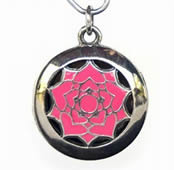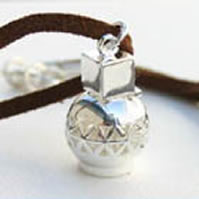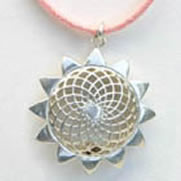 ALL STERLING SILVER AROMATHERAPY JEWELRY HALF PRICE!
Your eyes don't deceive you - that's 50% off remaining stock of high quality sterling silver aromatherapy pendants, silver/enamel chakra lockets, bracelets and earrings. This offer continuing until current stock is depleted. Use Coupon Code AJBF2012 at checkout. Click here to see list of items.
---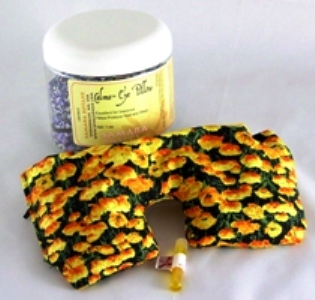 THE PERFECT GIFT OF COMFORT
Do you or someone in your life have trouble sleeping? Have you ever tried an aromatherapy eye pillow? This comforting pillow is made from soft pre-washed 100% cotton, filled with infused flax seed and is perfectly weighted to provide light, gentle pressure to your eyes. Scented with our most purchased aromatherapy synergy meant to slow and calm your thoughts and induce restful sleep. Comes with an elastic strap to insure positioning throughout the night. It also comes with a container with a secure closure to retain intensity of scent when not in use and 1 ml of Calma synergy and instructions to re-infuse the flax seed. Each one is a unique floral pattern, depicting one of the official flowers of the 50 states. You'll get 25% off by entering Coupon Code CAP2012 at checkout. Click here for product details and to purchase.
---

CHRISTMAS 2012 NATURAL PERFUME SPECIAL!
For that Special someone. Take $20 off our Natural Perfume sprays and mists, and Prakriti Anointing Oil.
Use Coupon Code PERFUME2012 at checkout. Go to our Perfume Page for details and to purchase.
---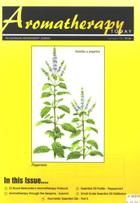 Back Issues of Aromatherapy Today magazine are on sale for 30% off while supplies last. Use Coupon Code ATT30 at checkout.
Home
|
About Us
|
Contact Us
P. O. Box 2483 | Snohomish, WA 98291-2483
Order Line: 800.782.4532 | Corporate: 360.862.0231 | Fax: 360.862.0244