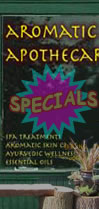 Graphic courtesy of
Marvy Moms


WELCOME TO OUR 2017 HOLIDAY SALE
We're offering three blanket discounts this year, calculated on the total amount of your purchase.
No code necessary, the discounts will be applied when your order gets entered into our system. They are:
Orders totalling $100 to $199 . . . Save 10%
Orders totalling $200 to $299 . . . Save 15%
Orders over $300 . . . Save 20%
Sale will be in effect starting all day Thursday, November 23
and ending Midnight Monday, November 27. Five days of blissful savings.
These discounts cover everything on our website, including all essential oils, absolutes, synergies and blends, hydrosols, floral waxes, dilutions, extracts and alcohols, floral waxes and concretes
with the exception of those collections already permanently discounted.
Wait, that's not all . . .Your discount will also include unscented lotion, gels,
clays, salts, sugars, dried botanicals
. . . as well as tins, bottles, jars, ointment/solid perfume containers, inhaler blanks,
funnels, bags -all the necessary items for making your own aromatic gifts.
Unless it is already discounted on the website, your level of discount will apply.
All orders will be processed first come first served beginning on Monday. If item stock is depleted,
we will advise you via email or telephone to let us know if you simply want it backordered
and sent when it arrives or if you wish to substitute another comparable item.

For some Holiday suggestions visit our Specials Page.
Note: Your discounts will not show up on the invoice at checkout time, but we will honor the discounts on all orders received during the sale period