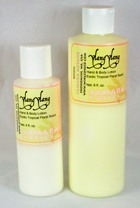 Hand and body lotion scented with ylang ylang essential oil.
Leaves your skin feeling sensuously soft and smooth while providing nourishment and soothing relief to dry or chaffed areas.
Contains a high concentration of pure aloe vera gel and Vitamin E blended into a luxuriously rich base of all moisturizers, scented with essential oil.. Can be diluted with SB unscented hand & body lotion. For external use only.

Ingredients:
Purified water, aloe vera gel, apricot, avocado and safflower oils, vegetable emulsifying wax, wheat germ oil, glycerin, glyceryl stearate, cocoa butter, sandalwood oil., vitamin E, cetyl alcohol, dimethicone, imidazolidinyl urea. Scented with Ylang Ylang essential oil.