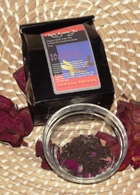 Rose Assam Tea
, a Classic Dark India Tea is a Certified Organic ultrafine delicate tea w/ unsurpassed malty taste combined with organic rose petals emboldened w/ precious rose otto. Certified Fair Trade. Perfect blend for a special indulgence.
Brewing Instructions:
take no more than 2 teaspoons of loose tea to 8 oz. of boiled water. Pour water over tea and steep no longer than 4 minutes. Strain and enjoy.