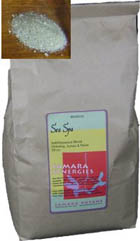 This therapeutic bath contains harvested organic seaweed Fucus serratus, dead sea salt and Epsom salt and recreates the traditional combination used in seaweed baths for hundreds of years in Ireland. You can replicate the rejuvenating experience found at dozens of seaweed bath spas in and around Ireland in your very own bath using this formula. This success of the traditional seaweed bath for numerous health problems such as eczema, psoriasis, arthritis, rheumatism has been documented for centuries and is attributed to the high level of minerals and trace elements as well as vitamins contained in seaweed. In combination with the salts, you add iodine, manganese, zinc, titanium, potassium, calcium and vitamin C, along with beta-carotene and molybdenum. A key ingredient in the seaweed itself is polysaccharides like alginic gel and iodine which are released by the hot water added in the bath. This bath can be hugely beneficial to skin and hair and is will ease the pain of arthritis and rheumatism. A seaweed bath can also greatly help to more quickly remove and eliminate adverse toxins associated with chemotherapy and cancer treatments. Also greatly beneficial to the athlete to relieve muscular pain associated from overwork. Persons working to lose weight will also benefit because of the slimming and slenderizing properties. The seaweed spa bath is moisturizing and emollient, helps with stress relief and general well being, wound healing as well as providing rejuvenating hair care.
The seaweed contained in this bath is in powdered form and while it will not completely dissolve in the bath, it will cleanly wash from the tub down the drain. A slight gel or film from the seaweed will softly coat your body while you soak. To absorb the full benefits of the seaweed, make your bath as hot as you can stand it, and soak for approximately 20-30 minutes. You can continue to add hot water to keep the temperature at the optimum warm/hot level. Your thyroid will be stimulated and the seaweed bath will benefit other organs, including the adrenal glands because of the vitamin K content and will help maintain hormonal balance. You may experience profuse perspiration as the seaweed spa bath will detoxify the body by stimulating the release of excess body fluids. Toxins are then replaced with depleted minerals, particularly potassium and iodine. There are over 90 elements in seawater that are essential in a healthy human body. It is best to do your seaweed spa soak just prior to bedtime as you will feel tired and most probably fall into deep sleep immediately following your bath.
Other health benefits include reduced tension, improved circulation, weight loss and cellulite control, easing menopausal discomfort and relieving muscle pain and fatigue. The medicinal use of seaweed and sea salts is so well proven that doctors in Europe write prescriptions to receive these treatments. Benefits for recovering from surgery, chemotherapy and benefits to the sufferers of arthritis and rheumatism are well documented.
For additional aromatherapy benefit, add 15 to 18 drops of Sea Spa essential oil synergy, item code 16526, to 2 ounces of the salt mixture and disperse into the bath. (Do not add undiluted essential oils directly to the bath as they will not disperse evenly in the water and could irritate skin.) This synergy is a balanced blend of lavender and seaweed essential oils for additional calming aromatic benefits.

Sea Spa
is a blend of Epsom salt, Dead Sea salt and seaweed.
Use Instructions:
Add 1/4 to 1/2 cup to a warm bath.
Sea Spa eases tension and pain, certain skin conditions, rheumatism and arthritis. Assists circulation.

Use with healthcare provider's advice with high blood pressure or pregnancy. Use less with small children or the elderly.