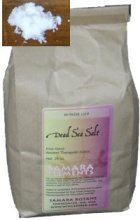 Dead Sea Salt is 100% pure, harvested from the Southern Dead Sea in Israel. Our Dead Sea Salt is the only optically clean Dead Sea salt available anywhere. This unique process removes the insoluble matter that is typical of Dead Sea salt, making it the cleanest, most aesthetically-perfect Dead Sea salt on the market. It is perfect for using in spa treatments and for making therapeutic grade Dead Sea bath salts and scrubs. Superior for manufacturing uses and uniquely gentle for bathing purposes,
Dead Sea salt, is harvested from the southern shores of the Dead Sea in Israel, where the absorption of the minerals is the highest. A natural white, dry crystal, the composition of the brines from which Samara Botane Dead Sea Salt is derived is distinct, comprised mainly of magnesium, potassium and calcium chlorides, as well as a high level of bromides. This makes it an extremely therapeutic and soothing treatment for the whole body.
The waters of the Dead Sea are unique, having a total salt concentration that is 10 times higher than ocean water, reaching 33% versus 3%. But that's not all! The composition of Dead Sea salt is also unique, comprising of magnesium, potassium and calcium chlorides, in addition to a high concentration of bromides.
This extraordinary chemical composition has made the Dead Sea an ideal spot for people seeking relief from skin and rheumatic disorders, and an equally popular choice for vacationers seeking relaxation. In fact, these soothing miracle-working waters have a reputation that dates back over 2000 years when the Roman historian Flavius noted… "Dead Sea salt cannot be praised too highly. Travelers take this salt home because it heals the human body and is therefore used in many medicines. Dead Sea Salt is also used as a raw material in the cosmetic industry.
Bringing the Dead Sea's properties right into the bathtub for relaxation and relief, the widely reputed soothing effects of the Dead Sea can now be enjoyed in the privacy of one's home. Now every bathtub, hot tub, jacuzzi and whirlpool can be a private spa, brimming with the widely reputed therapeutic benefits of Dead Sea salt and its life giving minerals, 24 hours a day, 365 days a year - whenever anyone, anywhere wants relief or relaxation.

Chemical Composition:
Item(s) of Related Interest