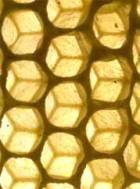 Growing Practice:
Ethical
Country of Origin:
USA
Bees Wax Prills are small pellets of bees wax, ideal as an ingredient in cosmetic products or candles. These are refined to remove the yellow coloring ingredients and some of the characteristic odor.
CAS No: 8012-89-3


Bees wax is a natural product produced by bees and used by them to build honeycombs that are used for the storage of honey and as part of the bee's reproductive process. No bees are harmed in its collection. Usually the wax is separated from the honey by a centrifugal process and then melted down and refined to remove non-wax ingredients.
Beeswax prills can be used as a thickener for lotion bars, lip balms, or related products.
Beeswax prills can also be used as an ingredient in candles.

The information provided on these pages is not a substitute for necessary medical care, nor intended as medical advice. Always keep carriers and bases tightly closed and in a cool, dark place, out of reach of children. If redness or irritation occurs when applied to the skin, stop using immediately and contact your health provider if necessary.