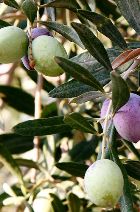 Latin Binomial:
Olea europaea
Plant Part:
Seed
Extraction:
Cold Pressed
Growing Practice:
Ethical
Country of Origin:
USA
Olive Butter (Olea europaea) contains essential fatty acids. In cosmetic preparations the feel and behavior of Olive Butter is similar to that of Shea Butter (Butyrospermum parkii.
Appearance: soft pale yellow fat
Melting Point °C: 40-50°C.
Saponification Value: 175-200


Olive Butter
is made from Olive oil derived from the fruit of the Olive tree, an evergreen tree or shrub native to the Mediterranean, Asia, and parts of Africa. It is obtained by cold pressing of selected fruits followed by a full refining process (unspecified and unkown to us at this time).
Olive Butter
(
Olea europaea
) exhibits excellent spreadability, making it ideal for massage or carrier for treatment products. It adds moisturizing attributes to creams, lotions and bar soaps. May be used in cosmetics, toiletries, soaps, massage oil and balms, hair preparations and other products.

The olive is one of the plants most cited in recorded literature, from the classic Greeks to the Bible. It is believed that cultivation began at least 7000 years ago. There was commercial cultivation in Crete as long ago as 3000 BC. There are five natural subspecies and thousands of cultivars. Olive trees can live up to several centuries and if pruned correctly and regularly can remain productive for as long.
Spain, Italy, Greece and Turkey are the major producers.

Olive Butter
is generally considered Low hazard, but it has not been assessed for safety in cosmetics by an industry panel.
The information provided on these pages is not a substitute for necessary medical care, nor intended as medical advice. Always keep carriers and bases tightly closed and in a cool, dark place, out of reach of children. If redness or irritation occurs when applied to the skin, stop using immediately and contact your health provider if necessary.