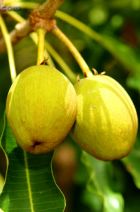 Latin Binomial:
Vitellaria paradoxa
Plant Part:
Nut
Extraction:
Cold Pressed
Country of Origin:
Togo
Shea Butter is an Ideal treatment for dry or aging skin. Helps moisturize and retain elasticity of the skin. Helps protect skin from sun and wind. Used by itself or as an additive to skin products.
Specific Gravity: 0.89 - 0.910 @ 40°C.
Appearance: a semi-solid, waxy material
BioChemicals: Glycerides (90%) including Palmitic (4-5%), stearic (27-42%), oleic (45-57%), and linoleic (6-9%) acids.
Unsaponifiables (8-10%) Mostly Triterpene cinnamates (4-9%)
Melting Point °C: 30-35 °C.
CAS No: 68424-60-2


Shea Butter
Vitellaria paradoxa
(Formerly
Butyrospermum paradoxum
or
Butyrospermum parkii
) is extracted from the nuts of the Shea Tree that is native to the dry savannah belt of central Africa. Price states that it contains high amounts of unsaponifiable matter, especial esters of cinnamic acid.
The shea tree is also known as Karité, Nku, or Bambuk Butter tree.
The tree must be at least 8-15 years old at first harvest, and can yield 15-20 kg of fresh fruit that produces 3-4 kg of dry kernels, which are 42-48% oil. Women and children collect the fruit at the beginning of the rainy season.
The oil is extracted by hand pressing, motorized oil expellers, or batch toasters.
Used in skin care, especially in protective lotions or creams, as a moisturizer and an emollient. It may also be an anti-inflammatory agent.
It has a skin softening effect, and also can be used in hair conditioners to add and maintain moisture.
It is also used in soapmaking, in small amounts (5-7% of the oils in a recipe). Since it contains unsaponifiable components, it leaves a small amount of oil in the soap which seals moisture into the skin.

The Shea tree was first described and documented in the West by a Scottish explorer, Mungo Park in the 18th century.

Not recommended for persons with nut or latex allergies. Some experts discourage its use by persons with chocolate allergies.
Store in a cool place. If it melts, it should be stirred as it rehardens to maintain a uniform texture.
The information provided on these pages is not a substitute for necessary medical care, nor intended as medical advice. Always keep carriers and bases tightly closed and in a cool, dark place, out of reach of children. If redness or irritation occurs when applied to the skin, stop using immediately and contact your health provider if necessary.