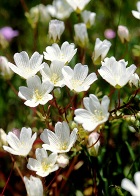 Meadowfoam seed oil is one of the most stable lipids known, containing over 98% long chain fatty acids (C18, C20 and C22) and mixed tocopherols (Vitamin E).
Refractive Index: 1.470 @ 25° C.
Specific Gravity: 0.910 to 0.920 @ 20° C.
Appearance: light colored, odor free liquid
BioChemicals: Saturated fatty acids (typically 1%): palmitic (<1%), stearic (<0.5%)
Monounsaturated fatty acids (typically 77%): C16:1 palmitoleic (<0.5%), C18:1 oleic (0-4%), C20:1 ecosenoic (60-65%), C22:1 eruric (8-11%)
Polyunsaturated fatty acids (typically 22%): C18:2 linoleic (0-4), C18:3 α-linolenic (trace)
Other constituents: C22:1 δ-linolenic (2-4%), C22:2 (15-23%)
α-, β-, γ-tocopherols (0.07%)
Saponification Value: 169
CAS No: 153065-40-8


Meadowfoam
(
Limnanthes alba
) of the Limnanthaceae Family, is a low growing annual native to northern California, southern Oregon, and Vancouver island in British Columbia. It grows to a height of 10-18 inches in a marshy habitat or along waterways and gets its name because of the appearance at full bloom of the creamy white flowers that resemble sea foam on the surf. The flower is cup-shaped with 4-5 white petals about 1/2 inch long.
Meadowfoam is currently cultivated in Oregon and New Zealand.
The fruit of the plant is a nutlet and contains 20-30% oil, which is obtained by solvent extraction or cold pressing from the crushed seeds.
Most meadowfoam oil is produced by solvent extraction, which can remove some of the non-oil ingredients.
Cold Pressed oil is mechanically extracted and filtered with no further refining. It is deep red-orange in color, and contains more of the active non-oil materials such as tocopherol and phytosterols.
Because Meadowfoam Seed oil contains long chain polyunsaturated fatty acids, it has a skin feel different than other oils. It absorbs quickly and leaves a tighter skin feel. It is also very stable and when mixed with other oils can increase their stability. It has natural emollient properties.
Cosmetic Uses
as an emollient
improve stability and shelf life when used with other oils
skin moisturizer
hair rejuvinating and adds shine
anti-aging and wrinkle reduction
blends well with other fixed oils
lip and skin balms as a moisturizer and to add stability

Meadowfoam was first classified by an English botanist, Robert Brown, in 1833. It was subsequently exported to Europe as an ornamental plant. In the 1960's it was studied as a potential native plant species of economic value, because of its oil content, and research at Oregon State University in Corvallis led to the development of a cultivar more suited to agricultural production.
In the late 1970's Meadowfoam seed oil was discovered by the Japanese cosmetics industry. As demand increased, a growers cooperative was formed, which eventually started a secondary production site in New Zealand.
In 2004 production of Cold Pressed oil was started from seed grown in New Zealand. In 2008 Meadowfoam CP was accepted for Ecocert certified cosmetics.

Generally considered to be of low hazard.
Not assessed for safety in cosmetics by an industry panel.
The information provided on these pages is not a substitute for necessary medical care, nor intended as medical advice. Always keep carriers and bases tightly closed and in a cool, dark place, out of reach of children. If redness or irritation occurs when applied to the skin, stop using immediately and contact your health provider if necessary.