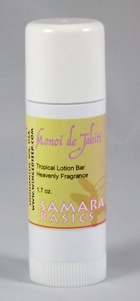 Moisturize and protect your skin with this Tropical Lotion Bar with the Heavenly Fragrance of Monoi de Tahiti.
Infused with Tiare flowers from Hawaii is sought after around the world for skincare and protection. Used in the tropics to help with the effects of sun.

Ingredients: Monoi de Tahiti infused flower oil, Meadowfoam oil, natural beeswax.