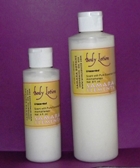 Samara Botane Unscented Body Lotion provides an excellent moisturizing base for skin care.
Scent the lotion base with your own essential oils, or use it unscented.
Ideal for hand and body use.

Ingredients:
Purified water, aloe vera gel, apricot, avocado and safflower oils, vegetable emulsifying wax, wheat germ oil, glycerin, glyceryl stearate, cocoa butter, sandalwood oil, vitamin E, cetyl alcohol, dimethicone, imidazolidinyl urea.
All ingredients are derived from natural plant sources.
Excellent for all skin types, including children and the elderly. Moisturizing and protective. Scent at 1-3% for best results, depending on essential oil intensity.

All natural origin. Contains no synthetic chemicals.