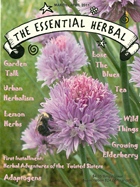 The Essential Herbal
March-April 2011
Contents include:
Winter Detoxification & Remedies
Southridge Treasures, The White Pine - Tree of Peace
Elderberry Through the Seasons
Urban Herbalism
The Sweet Delight of Cinnamon
The Herbal Adventures of the Twisted Sisters, Part 1
Wild Things
Musings from the Mountains

The cover features Chives (
Allium schoenoprasum
), the smallest member of the onion family.
The Essential Herbal Magazine
is published bi-monthly from Pennsylvania.
Mission Statement
The Essential Herbal is an ever growing magazine dispersing herbal lore and uses as we encourage business and hobbyists alike to shine by sharing their knowledge.
Tina Sams is Editor-in-Chief