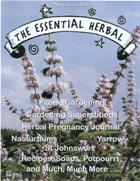 The Essential Herbal
May-June 2010
Contents include:
Faerie Gardening
Gardening Superstitions
Herbal Pregnancy Journal
Nasturtiums
Yarrow
St Johnswort
Recipes, Soaps, Potpourri
and Much, Much More . . .
The Essential Herbal Magazine
is published bi-monthly from Pennsylvania.
Mission Statement
The Essential Herbal is an ever growing magazine dispersing herbal lore and uses as we encourage business and hobbyists alike to shine by sharing their knowledge.
Tina Sams is Editor-in-Chief