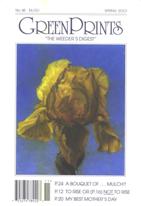 Green Prints: The Weeder's Digest
is a quarterly gardening publication with great cover pictures of plants, lots of articles about the human side of gardening, We used to sell it in our retail stores in Seattle and Snohomish.
We've got a stack of back issues taking up space on our bookshelves. Rather than recycling them (they're too thick for our shredder) we've decided to remainder them!
These originally sold for $4.00 to $6.00 (depending on the vagaries of inflation.) You can still get back issues from the publisher for around those prices.
Here's the Deal! If you add this item to your shopping cart we'll include one (or more) of these with your order. They will cost you $1 each. You don't get to pick which issue, but if you order more than one we'll make sure you don't get duplicates.

Two typical articles (fair use excerpted):
Strawberries at Dawn
The joys of early rising. From Gardening By Heart by Joyce McGreevy
"The first pale amber rays of sun have backlit the somber mountains. A coastal live oak rustles. The birds are stirring. In my garden, the poppies are rolled up tightly like saffron scrolls. I'm on my knees, coffee within easy reach, as I set a blue salvia into the ground the way a parent might ease a sleepy child back into bed. . . ." (from issue #45, pp. 12-15.)
Rebuttal of the Late Riser
Oh, give it—and yourself—a rest! By Martine Caselli
"Gardeners who traipse around before full daylight are eccentrics. They shouldn't advertise the fact." (from issue #45, pp. 16-19.)