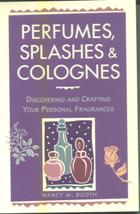 Perfumes, Splashes & Colognes: Discovering and Crafting Your Personal Fragrances
by Nancy Booth
Trade Paper, Storey Publishing, 1997. 172 pp.
Pinpoint your fragrance preferences and then create your own unique perfumes, splashes, and colognes. Learn how to blend fragrances, store them, and even package them as attractive gifts.
Back Cover
Nancy M. Booth
owns My Sweet Victoria, a wholesale and retail business selling dried herbs, potpourri, fragrance and essential oils, and related products internationally. She also teaches classes in perfumery.