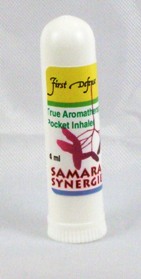 Early treatment and prevention are the best approach to alleviate cold and flu symptoms.
First Defense
is a synergy to help ward off colds and flu. This small pocket inhaler is easy and convenient to use on the go. Contains: A proprietary blend of anti-fungal, antiviral and antibacterial essential oils. Not to be taken internally. Keep out of reach of children. This product should not be used during pregnancy nor by those with epilepsy.

Contains: A proprietary blend of anti-fungal, antiviral essential oils of , , , , , and .
Made with essential oils of Eucalyptus (Eucalyptus polybractea), Lavender (Lavandula angustifolia), Spike Lavender (L.spica), Hyssop(Hyssop off.), Tea Tree (Melaleuca alternifolia), Oregano (Origanum vulgare), Lemon Myrtle (Backhousia citriodora) and Clove Bud (Syzygium aromaticum).
To use:
Remove cap. Insert in one nostril at a time keeping other side closed; take deep slow breaths to draw aromatics into breathing passages. Use product no more than 4-8 times daily, periodically as needed.

Not to be taken orally. Keep out of reach of children.
Never take device apart and do not handle active ingredient plug with bare hands.
Not recommended for children under 2.
This Product Contraindicated for those with epilepsy, pregnancy, breastfeeding and, has a moderate risk of mucous membrane irritation. If irritation occurs, discontinue use and notify health provider if warranted.
This information has not been evaluated by the FDA; this product is not intended to diagnose, treat, cure or prevent any disease.

Item(s) of Related Interest