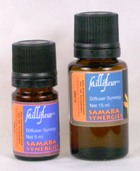 Millifleur™ Synergy Blend
is a subtle floral blending for pampering and indulgence. It's a luscious getaway from stress—relaxing and soothing.

Essential Oils of Roman Chamomile, Clary Sage, Sandalwood, Lemon, Geranium Absolute, Lavender Flower, Petitgrain Bigarade and Palmarosa with hints of Citrus.

Use in a diffuser or add to unscented bath salts, lotion or body oil for topical use.
Use undiluted in diffuser. Dilute 0.5 to 2% in lotion or oil for topical use.
Safe for children over the age of 3 in a 1-2% dilution.

Keep out of reach of children. For external use only.
The information provided on these pages is not a substitute for necessary medical care, nor intended as medical advice. Always keep essential oils tightly closed and in a cool, dark place, out of reach of children. Never ingest essential oils. Always dilute essential oils when applying topically and avoid areas around eyes or mucous membranes. If redness or irritation occurs, stop using immediately.

Item(s) of Related Interest