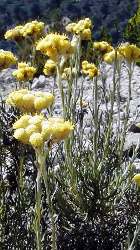 Latin Binomial:
Helichrysum italicum
Plant Part:
Flower
Extraction:
Steam Distilled
Growing Practice:
Organic
Country of Origin:
France:Corsica
Odor Type:
FRUITY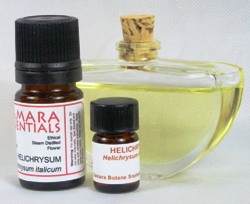 Odor Characteristic: Helichrysum has a powerful, diffiusive, pleasant, rich but distinctive odor quality. The sweetness is so rich, it can be overwhelming, honey-like with a deep, sweet-fruity and tea-like undertone.
Refractive Index: 1.47300 to 1.47500 @ 20.00 °C.
Specific Gravity: 0.90100 to 0.91100 @ 15.00 °C.
Appearance: pale yellow oily liquid
BioChemical Class: Monoterpenoid, Ester
CAS No: 8023-95-8

Aromatherapy:
The most widespread use of
H. italicum
in aromatherapy is for bruising, as it is anti-inflammatory and blood-moving. Generally bruises do not require treatment unless they are particularly painful or widespread. For severe brusing with swelling, a 10-20% dilution can be applied using a cold compress, reapplying during the first few hours to minimize continued bruising. After a few days, essential oils in a milder (2-3%) dilution can be used in massage work to help move clotted blood out of the area.*
Perfumery: The main constituent of helichrysum oil is Neryl-Acetate, a rarity in essential oils. It finds augmenting applications in perfumery and blends well with boronia, chamomile, most citrus oils, rose geranium, clary sage and some fruity oils.

The information provided on these pages is not a substitute for necessary medical care, nor intended as medical advice. Always keep aromatic extracts tightly closed and in a cool, dark place, out of reach of children. Never ingest aromatic extracts. Always dilute aromatic extracts when applying topically and avoid areas around eyes or mucous membranes. If redness or irritation occurs, stop using immediately and contact your health provider if necessary.