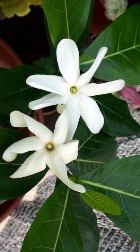 Monoï de Tahiti
is an infusion of "Tiare" flowers from Tahiti in coconut oil.
Monoi is a result of enfleurage, the art of extracting active or aromatic ingredients by gently macerating flowers in refined coconut oil. The 2,000 year old technique has been perfected through the ages for cosmetic and pharmacological purposes.

Ingredients: Coconut oil (
Coconut nucifera
) and "Tiare" (
Gardenia tahitensis
) flowers.
Plant Information for Monoï de Tahiti
The Tiare Tahiti bush (Gardenia tahitensis) of the Family Rubiacea is endemic to the island of Tahiti. It is in flower all year around, with even snow-white flowers that contrast with dark green glossy smooth-edged leaves. The unique perfume is reminiscent of gardenia and tuberose , with some aspects of apple-tree flowers.
Plant Information for Refined coconut oil
Refined coconut oil (Cocos Nucifera) in the Family Arecaceae is obtained from naturally dried coconuts that grow excusively on the coral soil of French Polynesia. Extraction is from the first pressing with no chemicals added; the raw oil is then refined to produce a light, limpid, high quality oil that is rich in saturated fatty acids. The oil has emulsifying and emollient properties.
Manufacturing Process for Monoi de Tahiti
To meet the certification requirements of the Monoi Institute, freshly picked buds of the Gardinia flower are macerated with ten flowers per liter of coconut oil for ten days.
Monoi de Tahiti has proven emollient properties, can protect, regenerate enhance the quality of hair, can be compared with traditional moisturizers such as Shea butter or jojoba oil.
Place container of Monoï de Tahiti in a warm place or under hot water to restore fluidity. Do Not use microwave!
Use after bath or shower while your skin is still moist. Massage over your entire body.
Monoï de Tahiti can also be used as massage oil.
Use as a pre-shampoo hot treatment to help repair and condition the hair.
Use as a pain releiver for sunburn.

Traditionally used by Tahitians. According to Wikipedia, it can be traced back 2000 years, and Captain Cook documented the native use of Monoi for medicinal, cosmetic, and religious purposes. It was used to prevent skin dehydration in babies and by Maori navigators during canoe expeditions at sea. It was also used for embalming to help on the journey into the afterlife.
Monoi has been manufactured commercially since 1942.
Since 1992 Monoi de Tahiti has production has been certified by the Monoi Institute which awards a "Appellation of Origin" to Monoi that is produced according to a strict protocol.

Not for internal use. Keep out of reach of children. Avoid contact with eyes. Refrigerate when not in use.
According to test results cited by the Monoi Institute, "results show that Monoi de Tahiti is extremely safe. It does not cause any skin reaction, and carries no risk of allergies for non-sensitized subjects."