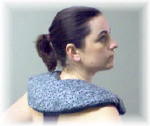 Small Shoulder Triggerpoint Pillow from Mother Earth. This smaller size is ideal for slight or fragile folks who could not tolerate the heavier Large Shoulder Triggerpoint Pillow™. This lighter weight is easier to lift over head to place on shoulders.
This size remains easily conformable for placement over any area of the body for many aches and pains. A perfect size for use while reclining to support your head and neck. Can relieve aching and stiffness in moments!
Removable, washable cover, 11.5" x 15", approx 2.7 pounds.
Can be heated in the microwave of cooled in the freezer. For pain, cooling first is recommended, followed by heat after the pain reduces.