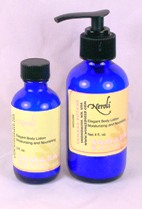 An elegant hand and body lotion scented with Neroli essential oil.
Can be diluted with unscented lotion for facial application.

Ingredients:
Purified water, aloe vera gel, apricot, avocado and safflower oils, vegetable emulsifying wax, wheat germ oil, glycerin, glyceryl stearate, cocoa butter, sandalwood oil, vitamin E, cetyl alcohol, dimethicone, imidazolidinyl urea and pure Neroli (Citrus aurantium v. amara) essential oil.