The Complete Book of Flowers: aromas, balms, baths, bouquets, breads, coolers, dressings, dyes, facials, gardens, garlands, lore, lotions, perfumes, potpourris, sachets, salads, teas . . .
by Denise Diamond, Illustrations by Patricia Waters, Photographs by martin Diamond.
Berkeley: North Atlantic Books, 1990. Trade paper, 293 pp.
Everyone who loves flowers will revel in The Complete Book of Flowers. Veteran horticulturalist Denise Diamond's magnificent compendium describes hundreds of creative ways to use flowers grown in home gardens or gathered in the countryside. This new updated edition includes 16 pages of color photographs; recipes which use flowers for taste and beauty; planting, growing, arranging, and drying advice; a rich lore of easy-to-understand botanical information; and lovely home decorating ideas.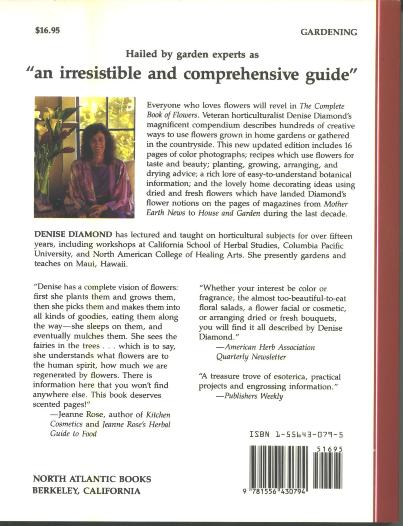 Back Cover
Denise Diamond
has lectured and taught on horticultural subjects for over fifteen years, including workshops at California School of Herbal Studies, Colombia Pacific University, and North American College of Healing Arts. She presently gardens and teaches on Maui, Hawaii.