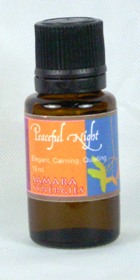 PEACEFUL NIGHT™ Synergy Blend
is a restful synergistic blend of Melissa, Citrus and other oils.
Melissa has been associated with calming and restful actions since the time of Pliny. It is also a very good respiratory oil. Promotes restful sleep, especially good for those with breathing difficulty.

Essential oils of Orange Sweet Organic, Mandarin Tangelo, Bitter Orange Peel, Bergamot, Pettigrain Bigarade, Melissa Organic, and Spikenard.

Use in the Ultrasonic aromatic diffuser for timed release throughout the night, or drop a few drops on a handkerchief for under the pillow. Also can be added in a 3-5% dilution in bath salts, lotion or massage oil.

Do not expose skin to sunlight for 24 hours after topical use or bath.
For external use only. Keep out of reach of children
The information provided on these pages is not a substitute for necessary medical care, nor intended as medical advice. Always keep essential oils tightly closed and in a cool, dark place, out of reach of children. Never ingest essential oils. Always dilute essential oils when applying topically and avoid areas around eyes or mucous membranes. If redness or irritation occurs, stop using immediately.