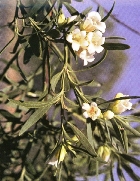 Latin Binomial:
Eremophila mitchellii
Plant Part:
Wood
Extraction:
Steam Distilled
Growing Practice:
Wild
Country of Origin:
Australia
Odor Type:
WOODY

Aromatic Characteristic Buddha Wood essential oil has a woody-sweet odor and chemistry related to Agar Wood.
Refractive Index: 1.52900 to 1.53500 @ 20.00 °C.
Specific Gravity: 1.0200 - 1.0500 @ 15.00 °C
Appearance: dark copper red liquid
BioChemical Class: Sesquiterpenoid Ketone
BioChemicals: Main Constituents: 30-60% Eremophilone, 6-25% 2-hydroxyeremophilone, 11-30% 2-hydroxy-2-dihydroeremophilone.
CAS No: none


About the Plant
Buddha Wood (
Eremophila mitchellii
), commonly known as False Sandalwood (also called Buddah, Sandalbox and Rosewood Belvory), is an evergreen, resinous shrub or small tree native to the arid regions of Australia (Queensland and New South Wales) from the Myoporceae family. It grows to 30 feet in height and has dark, flaky bark, linear-lancelote leaves with acute, hooked apex, and white to pale pink-mauve flowers with spottted throats. The tree flowers profusely in spring and to a lesser extent in autumn. Egg shaped fruits appear in the fall. This species is not widely cultivated and thrives in arid climes, but is adaptable to more humid, temperate zones. It is one of the strongest scented woods of Australia.
Aromatherapy
There has been little, if any, formal research using Buddha Wood in aromatherapy. It has use as a meditation oil and is said to be grounding and centering by those who use it for spiritual applications.
Perfumery Buddha Wood is a base note with similar application in perfumery to Vetiver, Sandalwood and Cedarwood. Guenther considered it valuable with "marked blending and fixative properties valuable in the scenting of soap and technical preparations."

No formal safety testing has been done.
The information provided on these pages is not a substitute for necessary medical care, nor intended as medical advice. Always keep aromatic extracts tightly closed and in a cool, dark place, out of reach of children. Never ingest aromatic extracts. Always dilute aromatic extracts when applying topically and avoid areas around eyes or mucous membranes. If redness or irritation occurs, stop using immediately and contact your health provider if necessary.