Latin Binomial:
Mentha arvensis
Plant Part:
Aerial Part
Extraction:
Steam Distilled
Growing Practice:
Ethical
Country of Origin:
Nepal
Odor Type:
MINTY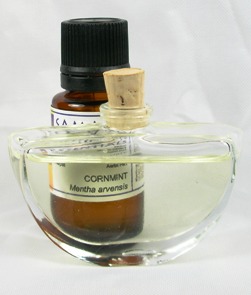 Odor Characteristic: This cousin of peppermint is stronger in menthol but otherwise has many of the same or similar uses. This essential oil has a strong, fresh and somewhat bitter-sweet odor somewhat reminiscent of peppermint oil.
Refractive Index: 1.458 @ 20.00 °C.
Specific Gravity: 0.897 @ 25.00 °C.
Appearance: colorless to pale yellow clear liquid
BioChemical Class: Alcohol, Ketone
CAS No: 68917-18-0
INCI Name: MENTHA ARVENSIS LEAF OIL


About the Plant
Cornmint
(
Mentha arvensis
) of the Family Labiatae (Lamiaceae per Wikipedia) is a perennial that grows up to 3 ft high and is native to the temperate regions of Europe and West Asia to the Himalayas. It is also known as Field Mint or Wild Mint. A related species
Mentha canadensis
is found in North America. It is in flower from May to October, with hermaphrodite flowers that are pollinated by bees.
The information provided on these pages is not a substitute for necessary medical care, nor intended as medical advice. Always keep aromatic extracts tightly closed and in a cool, dark place, out of reach of children. Never ingest aromatic extracts. Always dilute aromatic extracts when applying topically and avoid areas around eyes or mucous membranes. If redness or irritation occurs, stop using immediately and contact your health provider if necessary.