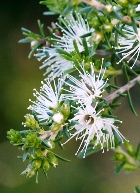 Latin Binomial:
Kunzea ambigua
Plant Part:
Branch and Leaf
Extraction:
Steam Distilled
Growing Practice:
Wild
Country of Origin:
Australia
Odor Type:
SPICY
Odor Characteristic: Clean, balsamic and somewhat vegatative, slightly spicy with trace hints of cinnamon leaf.
Specific Gravity: 0.9120 @ 20 °C
Appearance: yellowish oil, clear, non-viscous and watery
BioChemicals: 33-39.9% α-pinene
9-15.8% 1,8-cineole
11.9% globulol
09.4-11% viridifloral
05.1% bicyclogermacrene
02.9-4% α-terpineol


About the Plant
From the family Myrtaceae,
Kunzea ambigua
, commonly known as Poverty Bush or Tick Bush is a deciduous flowering shrub that grows on sandstone soils in eastern Australia. It is closely related to the genus
Callistemon
which includes Bottlebrushes and also bears a similarity to
Melaleuca
and
Leptospermum
. Growing up to 16 ft. high and wide, it has small white flowers with stamens longer than the petals in spring (Dec-Jan). Native gardners use it to attract insecs and it is used for sand dune stabilization.
Aromatherapy:
This essential oil is relatively new to aromatherapy and little aromatherapy research is available. The oil contains five sesquiterpine compounds, which makes it most likely a powerful anti-inflammatory. It perhaps has promise in arthritis and rheumatism blends, as well as sports medicine blends for tired and overworked muscles.. The essential oil has been found to help skin conditions such as eczema and inflammed dermatitis. Customer feedback is positive for help with skincare problems at 2-3% dilution. We personally have found it to be helpful in diaper rash. Although I find many online references that it is effective against several bacteria (including Staphylococcus aureus, E. coli and Candida albicans), I do not find any specific research papers to date. This abstract (shsowing isolates effective as an insecticide) indicates it could useful added to insect repellents. http://tinyurl.com/ygphr8a We also have seen its effectiveness for soothing insect bites and stings. Dr. Daniel Penoel considers Kunzea to be a totally unique oil, especially to control inflammation, because of the sesquiterpine compounds globulol, viridiforol, spathulenol, ledol and bicyclogermacrene.
Perfumery We have not seen wide use in perfumery yet.

The information provided on these pages is not a substitute for necessary medical care, nor intended as medical advice. Always keep aromatic extracts tightly closed and in a cool, dark place, out of reach of children. Never ingest aromatic extracts. Always dilute aromatic extracts when applying topically and avoid areas around eyes or mucous membranes. If redness or irritation occurs, stop using immediately and contact your health provider if necessary.