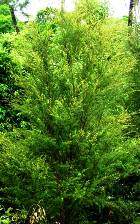 Latin Binomial:
Kunzea ericoides
Plant Part:
Branch and Leaf
Extraction:
Steam Distilled
Growing Practice:
Wild
Country of Origin:
New Zealand
Odor Type:
SPICY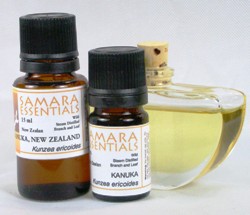 Odor Characteristic: Often referred to as white tea tree oil, Kanuka is not in the Genus Melaleuca. Odor is powerful, fresh, spicy-earthy with a slight phenolic similarity to tea tree oil. Also has a fresh-floral aspect. Drydown is thin, woody with rosy-floral backnote.
Refractive Index: 1.473 @ 20 °C.
Specific Gravity: 0.8700 @ 20 °C
Appearance: very pale yellow , clear, non-viscous and watery


History
Kanuka was used originally by the Maori people of New Zealand for pain and inflammation relief, skin disease,
Aromatherapy:
There is little aromatherapy research, although many claim use for muscular pain and swelling relief in sports massage, as well as for sprains and strains. Tests at a commercial laboratory provided positive unublished data on antimicrobial effects (Cooke and Cooke, 1991).
Perfumery:

No toxicity research to date.
The information provided on these pages is not a substitute for necessary medical care, nor intended as medical advice. Always keep aromatic extracts tightly closed and in a cool, dark place, out of reach of children. Never ingest aromatic extracts. Always dilute aromatic extracts when applying topically and avoid areas around eyes or mucous membranes. If redness or irritation occurs, stop using immediately and contact your health provider if necessary.