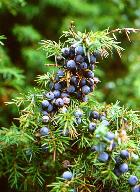 Latin Binomial:
Juniperus communis
Plant Part:
Berry
Extraction:
Steam Distilled
Growing Practice:
Ethical
Country of Origin:
Switzerland
Odor Type:
BASALMIC
Odor Characteristic: Fresh, warm, rich-balsamic, woody-sweet, pine-needle like. Powerfuly terpenic, coniferous-bitter. Dryout is sweet, fir-like, balsamic.
Refractive Index: 1.47200 to 1.48400 @ 20.00 °C.
Specific Gravity: 0.86900 to 0.85900 @ 25.00 °C.
Appearance: pale yellow clear liquid
BioChemical Class: sesquiterpene, monoterpene
CAS No: 8002-68-4


About the Plant
A very useful website on Junipers is: http://www.juniperus.org/index.html
Aromatherapy:
Juniper berry essential oil is very useful in cosmetic applications as a skin cleansing agent, especially for oily and congested skin because of its antiseptic and astringent qualities. In massage, it is useful as part of a detoxifying blend and with gout and arthritis because of its warming qualities. (1) It is useful in dilution in a bath with salts and/or seaweed blends. For inhalation, it can stimulate breathing and help open air passages. Psycho-spiritually, it is useful for anxiety, nervous tension, memory. Moderate effect against 4 species of bacteria (Friedman,
et al
, 2002. (2)
Perfumery: Used in perfumery for fresh, balsamic notes and as a modifier for various Conifer accords. It blends very well with other Conifers, Citrus, ambres, fougeres, chypres. Used extensively in after shave compositions. Also excellent in aromatic room sprays.

No irritation or sensitisation in humans at 8% dilution. Not phototoxic. Insufficient data for safe use during pregnancy, parturition and lactation, therefore it is recommended to avoid use. (1)
Juniperus communis has been confused with savin J. sabina and this may cause confusion in toxicity information.
(1) Aromatherapy Science: a guide for healthcare professionals, Maria Lis-Balchin, Pharmaceutical Press 2006
The Cosmetic Ingredient Review rates Juniperus communis "extract" as a "Cosmetic ingredient with insufficient data to support safety." Issues include potential for photosensitization, dermal sensitivity and irritation, developmental and reproductive toxicity.
The information provided on these pages is not a substitute for necessary medical care, nor intended as medical advice. Always keep aromatic extracts tightly closed and in a cool, dark place, out of reach of children. Never ingest aromatic extracts. Always dilute aromatic extracts when applying topically and avoid areas around eyes or mucous membranes. If redness or irritation occurs, stop using immediately and contact your health provider if necessary.