Latin Binomial:
Juniperus virginiana
Plant Part:
Wood
Extraction:
Steam Distilled
Growing Practice:
Ethical
Country of Origin:
USA
Odor Type:
WOODY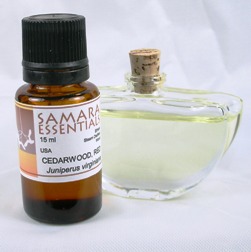 Odor Characteristics: Red Cedarwood essential oil smells just like the cedar chest your grandmother had or a brand new cedar deck. Odor is sweet, mild and pleasant, balsamic, oily-woody. It dries to a less balsamic and more woody, sweet odor.
Note: Red Cedarwood essential oil from the wood should not be confused with Cedarleaf essential oil, which is called Thuja and which needs special care in using as it is extremely toxic.
Refractive Index: 1.50350 to 1.50600 @ 20.00 °C.
Specific Gravity: 0.94700 to 0.95900 @ 25.00 °C.
Appearance: pale yellow to yellow clear oily liquid
BioChemical Class: Sesquiterpene
CAS No: 68990-83-0
Flash Point °F: 210

Aromatherapy:
In some of the more popular aromatherapy books, Cedarwood oils are said to have use in skincare, dermatitis, psoriasis, seborrhoea, dandruff and alopecia, arthritis, rheumatism, bronnchitis, coughs, sinusitis, cystitis, nervous tension, stress-related disorders and said to be calming and soothing for nervous tension and anxious states. It is purported to be a tonic to the glandular and nervous systems and acts as a sexual stimulant. There is little scientific evidence for these claims, however Cedarwood oils are relatively non toxic and scientific study and investigation continues. It is a pleasant fragrance and useful in massage blends, for aromatic diffisuion and in soaps and candles.
Perfumery: The very dry woody topnote of Red Cedarwood is due to the sesquiterpene Cedrene, which converts to cedrenol on aging. Red Cedarwood is used extensively in soaps, also as a fixative and additive to Vetiver and Sandalwood essential oils to reduce the costs. It is a frequent additive in aromatic room sprays.

GRAS status granted. RIFM recommended safety of use limits 1%.
The Cosmetic Ingredient Review rates Juniperus virginiana "extract" as a "Cosmetic ingredient with insufficient data to support safety." Issues include potential for photosensitization, dermal sensitivity and irritation, developmental and reproductive toxicity.
The information provided on these pages is not a substitute for necessary medical care, nor intended as medical advice. Always keep aromatic extracts tightly closed and in a cool, dark place, out of reach of children. Never ingest aromatic extracts. Always dilute aromatic extracts when applying topically and avoid areas around eyes or mucous membranes. If redness or irritation occurs, stop using immediately and contact your health provider if necessary.