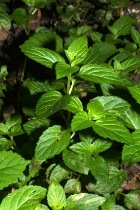 Latin Binomial:
Mentha piperita
Plant Part:
Aerial Part
Extraction:
Steam Distilled
Growing Practice:
Ethical
Country of Origin:
USA
2 oz and 4 oz sizes are sold in colored glass bottles with a spritzer cap; the 8 oz size is sold in a colored bottle with a polycone cap.

Peppermint Hydrosol has a pungent, cooling, refreshing odor. .


BioChemical Class: Alcohol, ketone


Used in hydrotherapy for stiff muscles, aches and pains. Use in footbath to soothe tired and overworked feet. Combats itching and burning and provides quick relief for bites, stings and burns. Use as aromatic environmental Spritzer for mental alertness.

Refrigerate when not in use. For external use only
The information provided on these pages is not a substitute for necessary medical care, nor intended as medical advice. Always keep hydrosols tightly closed, refrigerated, and out of reach of children. If redness or irritation occurs when applied to the skin, stop using immediately and contact your health provider if necessary.