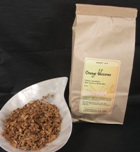 We've packaged these
orange blossoms
(
Citrus x aurantium
) for you to use in making your own herbal sachets, potpourris, or herbal potions.


Ingredients:
Orange blossoms
(
Citrus x aurantium
)
Orange blossoms
can be used to make an excellent tisane for topical use as an astringent and to nourish skin. (See our Recipe page for instructions.)
Used to flavor black tea, or in sachets and potpourri. Often used in Ayurveda as a stewing botanical on the wedding night.

Store Herbs in a Dry, Cool, Dark cupboard. Store prepared product (tisane) in the refrigerator.