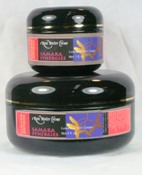 Latin Binomial:
Rosa damascena
Plant Part:
Flower
Country of Origin:
USA
Rose Water Crème is an organic Premium crème designed to hydrate and rejuvenate all skin types. Rose Water Crème is excellent for mature skin and safe for babies. Naturally scented from the precious rose otto essential oil contained in the hydrosol, it needs no additional scenting. It is an excellent, soothing skin regenerator , especially helpful for soothing and protecting after application of a healing astringent such as Healthy Skin Hydrosol™ (a blend of astringent, healing hydrosols to heal blemishes and minor skin conditions) also available.

Ingredients: Rosa damascena (Rose) Hydrosol, Cocos nucifera (Coconut RBD) Oil, Simmondsia chinensis (Jojoba) Oil, Emulsifying Wax, Palm Stearic Acid, Vegetable Glycerin, Hamamelis virginiana (Witch Hazel), Tocopherol (Vitamin E), Phenoxyethanol, Xanthan Gum (Pollysaccharide Gum), Salix nigra (Black Willow Bark) Extract, Azadiracta indica (Neem) Oil, Rosmarinius officinalis (Rosemary) Oleoresin, Tetrasodium EDTA, Citric Acid.
For use as a facial crème:
Apply to face and neck once or twice daily after cleansing and toning. Apply the crème in upward motions, using circular, upward motions with a gentle touch. Don't help gravity by tugging down on the skin.
For use as a body crème: Apply rosewater crème to your entire body as needed to nourish and hydrate your skin. Nourishes the hands, feet, and elbows or wherever there is dry skin.