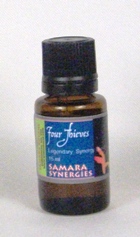 Four Thieves Oil
is an essential oil synergy blend based on the traditional ingredients from a legend of four thieves who used these ingredients to protect themselves from disease while stealing from the houses of the dead during a plague epidemic.

Ingredients:
Essential oils of Clove Bud, Lemon, Rosemary, Cinnamon Bark, Lemon Thyme, and Eucalyptus globulus in a synergistic blend.

There are many stories told on the internet about the legend of the four thieves who used a blend of herbs infused in vinegar to protect themselves from the plague while they were robbing from those who had died. Whether they are mere legend, the invention of internet marketers, or based in fact is unknown, but modern research has validated the effects of essential oils made from the herbs that may have been used. When made from essential oils, the effect is stronger and easier to use for personal effect.

For external use only. Intended for diffuser use. Dilute if used on skin.
The information provided on these pages is not a substitute for necessary medical care, nor intended as medical advice. Always keep essential oils tightly closed and in a cool, dark place, out of reach of children. Never ingest essential oils. Always dilute essential oils when applying topically and avoid areas around eyes or mucous membranes. If redness or irritation occurs, stop using immediately.