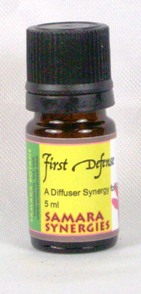 FIRST DEFENSE™ Synergy Blend
is an essential oil synergy blend formulated to help ward off colds and viruses.

First Defense Synergy Blend
is made with therapeutic essential oils of Eucalyptus, Lavender, Lemon Myrtle, Hyssop, Tea Tree, Thyme and Oregano. These essential oils have antiviral and antibacterial properties and may help ward off colds and viruses.

Use in a diffuser to permeate the home atmosphere and protect the whole family
Add 2-3 drops to nebulizing or ultrasonic diffuser with timer. Set the timer to emit oils intermittently for maximum economy and effectiveness.
Use in a 3-5% dilution in lotion or massage oil as a chest or foot rub. If using as a chest rub, wear a cotton turtleneck to keep warm and help aromatics diffuse locally.

Not to be taken internally. Keep out of reach of children. This product should not be used during pregnancy nor by those with epilepsy. This information has not been evaluated by the FDA; this product is not intended to diagnose, treat, cure or prevent any disease.
The information provided on these pages is not a substitute for necessary medical care, nor intended as medical advice. Always keep essential oils tightly closed and in a cool, dark place, out of reach of children. Never ingest essential oils. Always dilute essential oils when applying topically and avoid areas around eyes or mucous membranes. If redness or irritation occurs, stop using immediately.

Item(s) of Related Interest