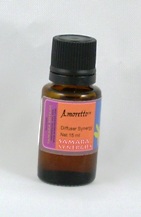 Our
Amoretto™ Synergy Blend
is especially for love! This lovely essential oil synergy is comprised of several precious aromatic ingredients.
Amoretto
means "Little Cupid". A tantalizing blend of essential oils, this essential oil synergy is uplifting and calming.

Essential oils of Mandarin (red and green), Ylang Ylang, Juniper berry, Rose Bulgarian, Vetiver, Clove Bud, Rose otto, Black Pepper, and Clary Sage.

Drop a few drops in your Ultrasonic atomizer, nebulizing or tealight diffuser for a gentle, warm environment or add to lotion or massage oil.
Use undiluted in diffuser. Dilute 0.5 to 2% in lotion or oil for topical use.

Keep out of reach of children. For External use only.
The information provided on these pages is not a substitute for necessary medical care, nor intended as medical advice. Always keep essential oils tightly closed and in a cool, dark place, out of reach of children. Never ingest essential oils. Always dilute essential oils when applying topically and avoid areas around eyes or mucous membranes. If redness or irritation occurs, stop using immediately.