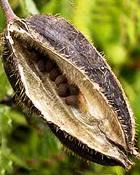 Latin Binomial:
Abelmoschus moschatus
Plant Part:
Seed
Extraction:
CO
2
Extraction
Growing Practice:
Ethical
Country of Origin:
India
Odor Type:
FLORAL

Odor Characteristics: The seeds come from the large yellow flowers and have a strong odor of animal musk. Ambrette seed CO2 has similar application to Ambrette seed absolute in fine, sophisticated perfumery to impart a note similar to animal musk. It is best aged for several months before use, which will subdue the initial fatty notes. It has a rich, sweet floral-musky odor, with a note similar to wine or brandy. Ambrette seed is very complex with an incredible tenacity (perceptible at .01-.04mg%). The odor has a complexity somewhat characteristic of cypress, Bulgarian rose, clary sage and cognac.
Special Considerations: Care should be taken in storage so that the fatty notes do not turn rancid. Arctander suggests diluting 10-50% in perfumer's alcohol to prevent rancidity.
Refractive Index: 1.45700 to 1.46500 @ 20.00 °C.
Specific Gravity: 0.91200 - 0.94100 @ 25.00 ?C.
Appearance: yellow, liquid oil with characteristic smell.
BioChemical Class: Sesquiterpenol
BioChemicals: 23 - 27 % essential oil containing 60 - 75 % farnesyl acetate, 5 - 10 % ambrettolide, heptyl-, decyl- and nerolidol acetate and farnesol.
CAS No: 8015-62-1
INCI Name: HIBISCUS ABELMOSCHUS SEED EXTRACT


About the Plant
From the family Malvaceae,
Abelmoschus moschatus
is commonly called muskmallow, it is an evergreen herbaceous shrub growing to about 4 feet, native to India, S. China, Asia and tropical Pacific. Despite its tropical origin, the plant is frost hardy and can be grown as a tender perennial or annual. Muskmallow plants feature hibiscus-like yellow flowers (to 2-3"wide) with purplish centers. Cultivars expand the available flower colors to include attractive shades of pink, orange-red and red often with white centers. Flowers last only for one day, but plants bloom freely throughout the growing season to frost. Flowers give way to fruit capsules (to 3" long) which have a musky aroma, hence the common name. Hairy, dark green leaves are deeply cut into 3-7 lobes.
Abelmoschus esculentus
(okra) also features attractive yellow flowers, but is more commonly grown as a vegetable crop for its edible seed pods.
Additional References:
http://www.hort.purdue.edu/newcrop/cropfactsheets/muskdana.html
History
In India, the roots and seeds (rarely leaves) are valuable in traditional medicines. The seeds are considered a bitter tonic, cooling, aphrodisiac, digestive, carminative, diuretic and deodorant. Roots and leaves are cures for gonorrhea. (Agharkar 1991). Use against venomous reptiles has been reported (Lindley 1985).
Aromatherapy:
There are no known aromatherapy uses.
Perfumery:
Ambrette seed CO2 is known for 'exhalting' effects in a perfume and blends well with rose, neroli, sandalwood, finding a place in more sophisticated blends. It blends well with rose, neroli, and sandalwood.

No available researched safety data.
The information provided on these pages is not a substitute for necessary medical care, nor intended as medical advice. Always keep aromatic extracts tightly closed and in a cool, dark place, out of reach of children. Never ingest aromatic extracts. Always dilute aromatic extracts when applying topically and avoid areas around eyes or mucous membranes. If redness or irritation occurs, stop using immediately and contact your health provider if necessary.