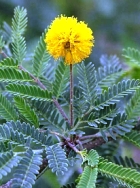 Latin Binomial:
Acacia farnesiana
Plant Part:
Flower
Extraction:
Solvent Extraction
Growing Practice:
Ethical
Odor Type:
FLORAL

Odor Characteristic: Odor is fresh, green, sweet-floral with waxy-powdery-balsamic notes, slightly aldehydic.

About the Plant
From the family Leguminosae,
Acacia farnesiana
shares some similarities with its sister,
Acacia dealbata
, and in some cultures is commonly called Mimosa, leading to confusion. It is a tall, semi-evergreen shrub or tree with feathery, finely divided leaflets that are soft medium green in color. Rough stems are rich chocolate brown with multiple thorns. The small, yellow, puff-like flowers are extremely fragrant and appear in clusters in late winter then sporadically after each new flush of growth. This slow-growing tree grows up to 25 ft tall with a rounded, spreading top.
Acacia farnesiana
thrives in dry localities, loamy or sandy soils in warm, temperate, dry through tropical deserts of moist forests. It most probably originated in tropical America, but it has naturalized and cultivated all over the world, in Africa, the Arabian penninsula, Indian Ocean islands, Pacific rim, Fiji, French Polynesia, New Caledonia, Vanuatu, Spain, Franch, Italy and Sicilia. It is extensively cultivated for the perfume industry.
Aromatherapy:
Floral waxes do not find specific use in aromatherapy, however, they are nice as hardening agents in lip balms and ointments..
Perfumery: Cassie comes from the same genus Acacia as mimosa and has similar uses in perfumery. Floral waxes lend themselves to solid perfumes and other cosmetics.

The Cosmetic Ingredient Review rates this as a "Cosmetic ingredient with insufficient data to support safety." Issues include potential for photosensitization, sensitivity and irritation, and genotoxicity in mammalian systems.
The information provided on these pages is not a substitute for necessary medical care, nor intended as medical advice. Always keep aromatic extracts tightly closed and in a cool, dark place, out of reach of children. Never ingest aromatic extracts. Always dilute aromatic extracts when applying topically and avoid areas around eyes or mucous membranes. If redness or irritation occurs, stop using immediately and contact your health provider if necessary.