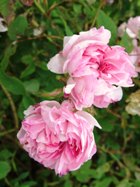 Latin Binomial:
Rosa damascena
Plant Part:
Petal
Extraction:
Steam Distilled
Growing Practice:
Organic
Country of Origin:
Bulgaria
2 oz and 4 oz sizes are sold in colored glass bottles with a spritzer cap; the 8 oz size is sold in a colored bottle with a polycone cap.

Produced by steam distillation, Bulgarian Rose Hydrosol smells like a fresh rose!


BioChemical Class: Alcohol


Elegant
rose hydrosol
is excellent for all skin types as a toner and added to lotions and creams. Can be used to remove makeup, cleanse, gently soothe and hydrate. Mist for a cooling, uplifting pick up when you feel stressed.

This product contains no preservative. Keep refrigerated. For external use only.
The information provided on these pages is not a substitute for necessary medical care, nor intended as medical advice. Always keep hydrosols tightly closed, refrigerated, and out of reach of children. If redness or irritation occurs when applied to the skin, stop using immediately and contact your health provider if necessary.